Trump backs off imposing China investment limits and punts the issue over to Congress
特朗普放弃对中国投资实施限制,把"球"踢给国会
Trump calls on Congress to review an existing process to impose limits on Chinese investment in American tech companies
The decision follows intense internal battles over the issue
Treasury Secretary Steven Mnuchin denied the administration had softened its stance after seeing the turbulence in financial markets
The administration's move is likely to be viewed as a conciliatory effort to lessen the risks of a full-blown trade war with China
特朗普要求国会审查现有的程序以限制中国对美国科技公司的投资。在此之前,美国政府围绕这一问题展开了激烈的内部争论。美国财政部长姆努钦(Steven Mnuchin)否认政府在看到金融市场动荡后软化了立场。美国政府的这一举动可能会被视为寻求和解的努力,以降低和中国爆发全面贸易战的风险。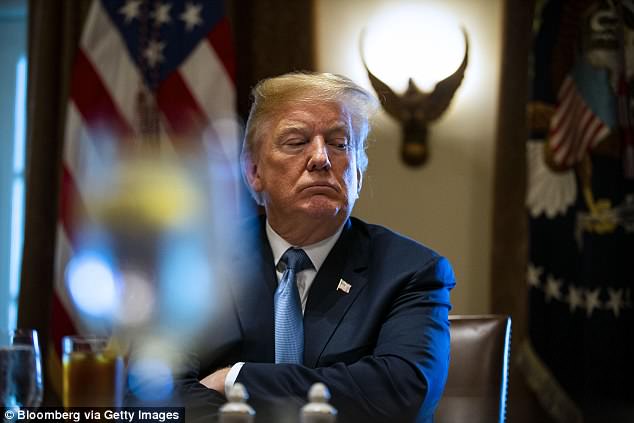 图片来源:英国每日邮报
President Donald Trump is shifting away from a proposal to impose limits on Chinese investment in American technology companies and high-tech exports to China.
Instead, the president is calling on Congress to enhance an existing review process.
The announcement Wednesday followed intense internal battles over the issue and published reports of impending bans on Chinese investment that had sent financial markets into a nose dive at the beginning of the week.
Instead of immediate bans on Chinese investment designed to protect sensitive U.S. technology industries, the administration said it would work with Congress to pass a bill that will provide 'enhancements' to the foreign investment reviews under the existing Committee on Foreign Investment in the United States.
美国总统唐纳德•特朗普正欲放弃对中国在美投资科技公司和对华高科技出口实施限制的提议。
相反,总统要求国会加强现有的审查程序。在周三宣布这一决定之前,美国政府围绕这一问题展开了激烈的内部争论,有关禁止中国投资的报道令金融市场在本周初暴跌。
特朗普政府表示将与国会一起通过一项法案,依靠现有的美国外国投资委员会(CFIUS)来加强对外国投资的审查,而不是立即对中国投资明令禁止以保护敏感的美国科技行业。
Treasury Secretary Steven Mnuchin, who chairs the investment committee, rejected the idea that the administration had softened its stance after seeing the turbulence in financial markets. Published reports has said the administration was about to embark on a far tougher approach.
'For those who want to say this is being weak on China, the answer is no,' Mnuchin told reporters at briefing on the decision. 'I don't think this is a question of weaker or stronger. ... The question was: What were the appropriate tools?'
Mnuchin noted that the House approved by a lopsided vote legislation to enhance the powers of the committee that decides whether foreign investment would pose a security risk to the United States. He said if this measure does not ultimately make it through Congress, the administration would return to a review of the powers at its disposal to protect sensitive U.S. technology.
美国财政部长、投资委员会主席史蒂文•姆努钦否认了政府在看到金融市场动荡后软化了立场的说法。公布的报告称,特朗普政府将采取更为严厉的措施。
姆努钦在有关这一决定的发布会上对记者表示:"对于那些想说这对中国不利的人来说,答案是否定的。我不认为这是一个更弱或更强硬的问题。问题在于:哪些方法更合适?"
姆努钦指出,众议院以压倒性票数通过一项法案,以加强外国投资委员会的权力,由其来决定外国投资是否会对美国构成安全风险。他表示如果这项措施最终未能在国会通过,特朗普政府将重新审视其手中的权利来保护美国敏感技术。
The administration's move, after weeks of escalating tensions between the world's two largest economies, was likely to be viewed as a conciliatory effort to lessen the risks of a full-blown trade war.
The comments Wednesday stood in contrast to a White House statement on May 29 that said 'the United States will implement specific investment restrictions and enhanced export controls for Chinese persons and entities related to the acquisition of industrially significant technology.'
That announcement said that controls would be announced by June 30 and would 'be implemented shortly thereafter.'
在世界最大两个经济体之间的紧张局势持续了数周之后,特朗普政府的这一举动可能被视为寻求和解的努力,以降低全面贸易战的风险。
周三的声明与5月29日白宫发表的一份声明形成了鲜明对比,该声明称,美国将加强对获取美国工业重大技术的相关中国个人和实体实施出口管制,并采取具体的投资限制。
声明称,将在6月30日之前宣布具体的控制措施,之后不久将正式实施。
Asked about this apparent change in position, Mnuchin said, 'It is not a question of whether we are focusing on China or we are not focusing on China' but rather an issue of using all available tools to deal with US-China trade disputes.
Mnuchin also said that recent adverse market reactions to rising trade tensions had not played a role in the president's decision.
President Donald Trump on Tuesday pushed back on recent reports that the U.S. was preparing the investment restrictions. He said the interagency investment committee, known as CFIUS, provided a lot of ways to protect technology.
'We have to protect these companies. We can't let people steal their technology,' Trump said Tuesday.
当被问及这一明显的立场转变时,姆努钦称:"问题不在于我们是否针对中国,而在于利用所有可用的工具来处理美中贸易争端。"
姆努钦还表示,近期市场对贸易紧张局势加剧的负面反应,并没有影响特朗普总统的决定。
特朗普总统周二驳斥了最近有关美国正准备实施投资限制的报道。他称,跨机构投资委员会即美国外国投资委员会(CFIUS)提供了很多保护技术的方法。"我们必须保护这些公司,不能让别人窃取他们的技术。"
The House on Tuesday approved a bill that would strengthen the CFIUS law and that bill was expected to be considered as part of a joint House-Senate conference committee reviewing a Senate-approved defense policy bill.
The debate inside the administration on how to deal with China had reportedly become intense between hardliners urging for a tough approach with China and moderates led by Mnuchin who argued for a less confrontational approach.
Mnuchin told reporters that these differences had been overblown and there was unanimous backing for the approach being unveiled Wednesday when it was presented to the president for his final approval at a White House meeting the day before.
'At the end of the day, all the president's advisers were 100 percent unanimous when we sat down with the president,' Mnuchin said.
众议院周二批准了一项法案,将加强美国外国投资委员会(CFIUS)的法律。该法案将被视为参众两院联席协商委员会审查参议院批准的国防政策法案的一部分。
据报道,特朗普政府内部关于如何处理与中国的关系的争论变得激烈起来,一方是敦促对中国采取强硬路线的强硬派,另一方是以姆努钦为首的温和派,主张采取对抗性更小的方案。
姆努钦告诉记者称,这些分歧被夸大了。在前一天的白宫会议上,当他将该方案呈交总统最终审批时,这份即将在周三公布的方案获得了一致支持。
姆努钦称:"最终,当我们和总统坐下来谈的时候,总统所有的顾问都百分之百支持这一方案。"
英国每日邮报读者评论:
原创翻译:三泰虎 http://jblasi.com/45411.html 译者:Jessica.Wu
外文:http://www.dailymail.co.uk/news/article-5891779/Trump-backs-imposing-China-investment-limits.html
deadmantalking, Vamo, United States, about 5 hours ago

He just sent it to purgatory. It will sit there a very long time before it is ever addressed

他只是把这个问题送进了炼狱,在解决之前还得在那停留很久。
Independent Dude, Tamriel, United States, 16 minutes ago

Harley made him do it!

哈雷逼他这么做的!
Bird Brain, Surrey, 38 minutes ago

As a democratic country the President of the United States has to respond to voters' reaction to the possibility and effect of a prolong trade war with China. China, without voters to worry about, could withstand a trade war longer.

作为一个皿煮国家,美国总统必须回应选民对与中国延长贸易战的可能性和影响的反应。没有选民的担忧,中国可能在贸易战中挺得更久。
Libertycan, West Vancouver, Canada, about an hour ago

It's not an investment. It's bribing owners to hand over technology they developed for the use of the US military. It's got it stop.

这不是一种投资。这是贿赂所有者让他们交出为美国军事用途开发的技术。拿到手了才会停止。
turpin, teignmouth, United Kingdom, about 3 hours ago

Like fonzy trump can't admit he is wrong

看来特朗普不能承认自己错了
Trojanapolis, There, United States, about 5 hours ago

This is why the uniformed do not understand how stupid Trumps actions toward China is. China hold a lot of America's debt, well over what Trump is crowing about in tariffs. China could simply say...okay Donald, if you want to play hardball, we are cashing in our debt chips we hold for your country. That would be a HUGE blow to the United States economy!

这就是为什么这些官员不明白特朗普对中国的做法有多蠢。中国持有大量的美国国债,远远超过特朗普在关税上吹嘘能带来的。中国只要说,好吧,唐纳德,如果你想来硬的,那我们正在就要兑现我们持有的美国国债。那将是对美国经济的巨大打击!
FakeNewsJim, Chicago, United States, about 3 hours ago

Having a massively imbalanced trade deficit will hurt us more than worrying about debt. Concerns over technology transfer are real as well.

严重失衡的贸易逆差对我们的伤害要大于对债务的担忧,对技术转让的担忧也是真实存在的。
molenhole, Brum, United Kingdom, about 4 hours ago

Around half of the National debt is owned by Americans.

大约一半的国债是由美国人持有的。
Moderate6, Brisbane, Australia, about 5 hours ago

Poor Donnie, he's failing at everything. Not to worry he should be locked up very soon.

可怜的特朗普,什么都玩砸了。别担心,他应该很快就会被关起来。
Stuttgart, Melbourne, about 6 hours ago

Weak, cowardly Trump has finally realised what a mess he's made of everything so now tries to hand responsibility to Congress to fix his mistakes.

软弱胆小的特朗普终于意识到,他把所有事情都搞得一团糟,所以现在他试图把责任推给国会,以弥补自己的错误。
SpikedDurian, Sunny Side Up, Singapore, about 7 hours ago

The time for such policies has passed. It's not the 80s anymore. China is already developing domestic technologies e.g. they design and make their own silicon, planes etc. All these policies are going to do is accelerate their progress and take business opportunities away from American companies.

这种政策已经过时了,现在已经不是80年代了。中国已经在发展国内技术,比如他们自己设计和制造硅、飞机等。所有这些政策都将加速他们的进步并从美国公司那里抢走商业机会。
Son of Nomad, NE Atlantic coast, United States, about 7 hours ago

Looks like Trump saw the falling stock market

看来特朗普看到了股市的下跌
inneedoftherapy, sarasota, United States, 8 hours ago

Can't or won't make a decision, so gives it to Congress and whatever solution they come up with, he will declare to be wrong ...

特朗普不能或不愿做出决定,所以把它推给国会,不管他们提出什么解决方案,他都会宣布是错的…
SinisterMinister, London , United Kingdom, 8 hours ago

Trump is pathetic

特朗普真可怜
K L Brown, CHARLOTTE, United States, 9 hours ago

Donnie Doll Hands ALWAYS backs down!

特朗普要放弃了
Lotsofshoes, Nyc, United States, 10 hours ago

Because it would hurt his daughters business.

因为这会损害他那些女儿的生意。
Tyrconnell, Las Vegas, United States, 11 hours ago

Canadian steel and German cars = Threat to National Security. China buying it's way into dual-use tech companies, no big deal...

加拿大钢铁和德国汽车=对国家安全的威胁。中国花钱铺路进入军民两用科技公司,没什么大不了的…
Michael of NJ, Princeton, United States, 11 hours ago

And Congress will promptly scuttle the idea.

国会将会立即否决这个想法。
N5o5No5, Bonn, Germany, 11 hours ago

Evil weakling!

邪恶的弱者!
LivingLogically, San Diego, United States, 11 hours ago

It's like being blindfolded and just throwing darts and seeing if anyone hit the target. Lol

这就像蒙上眼睛,扔飞镖,看看有没有人击中目标。哈哈
du Vallon, East Coast, United States, 11 hours ago

SO he has no problem imposing sanctions on our longest and most staunch allies... but he gives the dictators that are our biggest threats a free pass. Note to Europe and Canada. If you give Ivanka's company 135 exclusive patents, you pretty much escape all sanctions out of Trump... just saying... because it's true.

因此,对我们最长期、最坚定的盟友实施制裁对他而言毫无问题,但是他却给了对威胁最大的独材者一个自由通行证。请注意对比一下欧洲和加拿大。如果你给伊万卡的公司135项独家专利,你几乎可以逃脱特朗普的任何制裁。虽然是说说而已,但这也是真的。
qqqqqqqq1, nowhere, United States, 11 hours ago

Trump can't afford to alienate his dictatorship friends too much.

特朗普无法太过疏远他的独材朋友。
Chaquito Guerilla, Havana, Cuba, 11 hours ago

Donkey Donald single-handedly reduced the Government of the United States of America into a limping one-man band. Competent members of his entourage are splat like flies; they are appointed and fired faster than staff members at your local McDonalds. The present POTUS has no political experience, lacks a moral compass and even basic diplomatic skills, has no intellect to speak of, no human empathy, is a shameless narcissist and hate the free press. What the US needs now is a fast regime change. Replace the buffoon by someone with intellect and vision.

蠢驴唐纳德一手将美国政府变成了一个跛脚的单人乐队。他身边有能力的人就像苍蝇一样,被任命和解雇的速度比你当地的麦当劳员工还要快。现在这位美国总统没有政治经验,没有道德指南,甚至没有基本的外交技巧,也没有智慧可言,更没有人类的同情心,是一个无耻的自恋者,还憎恨自由媒体。美国现在需要的是一个快速的政权更迭,让拥有智慧和远见的人取代小丑。
Youraidiot53, Temple, United States, 11 hours ago

Wimp

懦夫
John Marshall, Galway, Ireland, 12 hours ago

President Trump is doing diplomacy like a BOSS !!

特朗普总统搞外交就像老板一样!!
FooFooB, Middlebury, 19 hours ago

Count down to more trademarks agreed to in China for Trump and Ivanka. How many did they already get? 51. That's right. He starts a trade war with our friendlies, but nothing with China and he and Ivanka get 51 trademarks approved. Don't look behind the curtain folks.

特朗普和伊万卡将在中国获得更多的商标。他们已经拿到了多少? 51个,没错。他和我们的朋友开始了一场贸易战,但这和中国没啥关系。他和伊万卡反正拿到了51个商标。
Richard Groff, Bradenton, United States, 19 hours ago

"...Trump backs off..." Otherwise known as "caving," a common occurrence among loud mouth self described."negotiators."

"特朗普放弃..."或者称之为"屈服",这是信口开河的人常干的事,他们还自诩为"谈判者"。
FooFooB, Middlebury, 19 hours ago

My guess it has something to do with the 51 Trademarks he and Ivanka have received since he became President.

我猜这和特朗普当上总统以来,他和伊万卡得到的51个商标有关。
ooiocoo, Liverpool Toronto Florida, United Kingdom, 19 hours ago

the deal was already made; now they are just doing the public show.

交易已经达成了,现在他们只是在作秀。
nikko, Sandanski, Bulgaria, about an hour ago

Much talk about the USA,s National Debt and who owns the biggest slice and more important what the implications are for those holding the debt should they decide to call it in. We have a trillion National Debt Pile in the UK and we should be concerned or( Brexiters and Mrs. May should be) if our creditors call time on our debt. If our creditors should take umbrage about our economic policies brought about by Brexit and leaving the financial security of the EU the turmoil that could ensue would not bear thinking about, going against the rest of the world would certainly be a financial position we could never recover from.

很多人都在谈论美国国债,以及谁拥有最大的份额,更重要的是,如果那些持有国债的人决定购买国债,那么这对他们意味着什么。英国有一万亿国债,如果我们的债权人要求我们偿还债务,我们或者(退欧派和特蕾莎梅应该担心)就应该有所担忧。如果我们的债权人对英国退欧带来的经济政策感到愤怒,并让欧盟的金融安全得不到保障,那么随之而来的动荡将无法想象。与世界其他地区作对,必将导致我们永远无法恢复的财政状况。