US-China trade war could flood India with steel
中美贸易战可能给印度带来大量钢铁
NEW DELHI: Indian companies are bracing for a possible flood of steel imports should the US and China follow through on their threats about a trade war.
新德里:如果美国和中国将两国之间贸易战的威胁兑现到底,那么印度企业可能将面临大量的钢铁进口。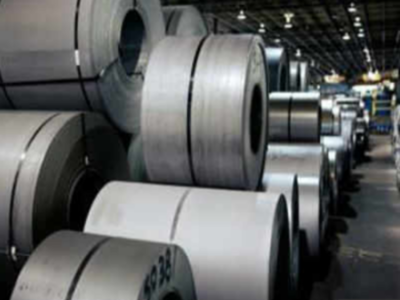 图片来源:印度时报
Duties imposed by the US + would trigger "trade diversion" from other steel makers, who would then dump their products in India, said Bhaskar Chatterjee, secretary general at Indian Steel Association, in an email. As much as 80 million tons of steel -- or 17 per cent of global exports, based on World Steel Association data -- could be diverted to markets such as India, according to Seshagiri Rao, joint managing director of the country's top mill, JSW Steel Ltd.
印度钢铁协会秘书长巴斯卡查特吉在一封电子邮件中说,美国施加的关税将会引发其他钢铁制造商的"贸易转移",他们将在印度倾销他们的产品。根据世界钢铁协会的数据,多达8000万吨的钢铁(占全球出口的17%)可能被转移至印度等市场。
The comments highlight the uncertainties surrounding global trade ahead of July 6, when President Donald Trump's tariffs on $34 billion of Chinese goods + are scheduled to kick in, a move that China has vowed to retaliate against. India stands out as an attractive destination because it's the world's fastest-growing major economy. The country has also much riding on the health of its steel industry because it's expected to overtake Japan as the world's second-largest steel-producing nation as soon as this year.
这些言论凸显了围绕在全球贸易中的不确定性。美国总统唐纳德•特朗普计划从7月6日开始对价值340亿美元的中国商品加征关税。中国发誓对此进行反击。印度作为世界上增长最快的主要经济体,是一个极有吸引力的销售目标。印度在很大程度上还依赖于本国钢铁行业的健康发展,预计最早将在今年超越日本,成为全球第二大钢铁生产国。
Other steelmakers have voiced concerns about a looming trade war.
其他钢铁生产商也对即将到来的贸易战表示担忧。
Thyssenkrupp AG's Italian unit said it will take a $220 million sales hit if the European Union doesn't take measures. The Canadian government is preparing countermeasures to prevent a flood of steel imports through a combination of quotas and tariffs. Similar steps are being considered by the European Union too.
蒂森克虏伯的意大利子公司说,如果欧盟不采取措施,它将遭受2.2亿美元的销售打击。加拿大政府正准备采取对策,通过配额和关税的组合措施,防止钢铁大量进口。欧盟也在考虑类似的措施。
印度时报读者的评论:
原创翻译:三泰虎 http://jblasi.com/45430.html 译者:Joyceliu
外文:https://timesofindia.indiatimes.com/business/india-business/us-china-trade-war-could-flood-india-with-steel/articleshow/64806390.cms
Aam Aadmi

10433

Aam Aadmi-India-18 hours ago

Trust our Prime Minister.
He is a warrior-trader.
He can teach the Chinese a few tricks that they might have missed.
Now it is for us to stand by him and help him help us.
21st century will be India''s century.

我相信我们的总理。

他是一个贸易战士。

他可以教中国人一些他们不会的技巧。

现在我们应该站在他的一边,成全他来帮助我们。

21世纪将是印度的世纪。
Praveen W

1046

Praveen-18 hours ago-Follow

More then 90 % Indians wants MODI as PM of India again and again..

超过90%的印度人希望莫迪能一直一直担任印度总理。
Ramakrishna Murthy

2584

Ramakrishna murthy-18 hours ago-Follow

we should also impose tariffs on china stupid chinese products are useless and take advantage our government is doing nothing

我们也应该对中国征收关税,愚蠢的中国产品是无用的,他们占了我们的便宜,我们的政府什么都没做
India First

2209

India First-Marlboro-18 hours ago-Follow

If india acts smartly, they can gain from tgis trade war. But, doubt if Modi has the required skills in his cabinet to take advantage.

如果印度采取明智的行动,他们可以从贸易战中获益。但是,我怀疑莫迪的内阁有能力利用这一机遇么?
Raghu S P

835

Raghu-18 hours ago-Follow

Compaign for Sri. Modi's comeback in 2019 must begin today!

莫迪2019年的回归之战必须今天马上开始!
Tej Singh

53

Tej Singh-18 hours ago-Follow

India has very capable government, they wont allow Chinese steel imports loss to our Indian steel companies and costing jobs eventually.

印度有一个非常能干的政府,他们不会允许进口中国的钢铁,给我们的印度钢铁公司和就业造成损失。
Ramesh Babu

7365

Ramesh-18 hours ago-Follow

Let's welcome steel at low cost. Ultimately I don't want to make adani rich by paying more for his steel.

让我们欢迎低成本钢铁吧。最后,我不想为阿达尼集团的钢铁付更高价格,让阿达尼变得更为富有。
Sudhansu

9491

Sudhansu-18 hours ago-Follow

WE SHOULD IMPOSE SIMILAR TARIFF ON CHINESE GOODS SINCE THEY HAVE NOT ALLOWED FREE MARKET TO OUR GOODS.

我们应该对中国货物征收类似的关税,因为他们并未对我们的商品放开自由竞争的市场。
Apu Apu-Earth-16 hours ago

This is a wonderful opportunity. Put the cheap steel to work in building lasting infrastructure, ports, bridges, skyscrapers, dams, canals, trains.

这是一个极好的机会。将廉价钢铁投入长期基础设施、港口、桥梁、摩天大楼、水坝、运河、火车的建造。
Satya Murthy

15885

Satya-18 hours ago-Follow

it is boon for Indian manufacturing sector with lesser in put costs consumer durables will be much cheaper consumers will be benefited

这对印度制造业是有利的,因为成本较低,消费品购买耐用品的价格要便宜得多,消费者将从中受益
TSR The Urbanist

10006

TSR The Urbanist-Namma Bengaluru-18 hours ago-Follow

India should impose high anti-dumping duties on Chinese imports and curb their dumping. This would teach them a lesson

印度应对中国进口产品征收高额反倾销税,并遏制其倾销行为。这会给他们一个教训
Exbhakth

9070

Exbhakth-15 hours ago-Follow

like US , India should also impose import duty on China steel. We can't use our own money to fund China's military expansion. The import duties should be such that Chinese steel should be costlier than Indian steel.

印度也应该与美国一样,对中国钢铁征收进口关税。我们不能用自己的钱来资助中国的军事扩张。进口关税可以让中国钢铁的价格比印度钢铁高。
Sri S

2028

sri s-17 hours ago-Follow

Good price would come down. In last 8-10 steel/copper makers are practically looting thanks to huge Chinese demand.

很好,价格会降下来的。由于中国巨大的需求,过去8-10家钢铁/铜生产商实际上在掠夺。
Niranjan V R Niranjan-Bangalore-18 hours ago-Follow

indian steel mills are dictating price and supplies now. good relief for customers

现在,印度的钢厂可以决定价格和供应。这对客户来说是好事。
Rufus Henry Rufus-12 hours ago-Follow

No way you can stop Chinese goods. the policy till now is import and then send messages to the public not to buy Chinese goods. it's not going to work.

你不可能阻止中国商品。截止目前,政策还是进口,跟公众说不要购买中国商品,这行不通的。
Mokkapati Prabhakara Rao

5106

Mokkapati Prabhakara Rao-India-16 hours ago-Follow

Why not India import steel at cheaper rates and supply to the consumers at low rates?. Why not the customers get the benefit?. Indian steel companies are are keeping the prices high .

为什么印度不以更低的价格进口钢铁,以更低的价格供应给消费者?为什么消费者得不到好处?印度钢铁公司正将价格维持在高位。
Vidya Kulkarni

263

Vidya Kulkarni-17 hours ago-Follow

Yes, for another two terms 2019 and 2025 narendra modiji must be our Prime minister only then Hindustan will progress.and we all see the nation developed..........

是的,在接下来2019年和2025年两届任期内,纳伦德拉·莫迪必须成为我们的总理,只有这样印度才能取得发展。我们都看到了这个国家有了进步……。
Tanmay Chakrabarti

20792

Tanmay Chakrabarti-18 hours ago-Follow

The golden days of Indian steel makers will be over soon. To protect them, Govt. of India has to do something very quickly.

印度钢铁制造商的黄金时代即将结束。为了保护他们,印度政府必须迅速采取行动。
Viswanathan Iyer

9825

Viswanathan Iyer-Bangalore-16 hours ago-Follow

Seems to be good for India though Chinese products are not trust worthy.

虽然中国产品不值得信赖,但似乎对印度有利。
Frank

4007

Frank-India-17 hours ago-Follow

Just increase tarrifs on Chines steel to give level playing field to Indian Steel makers.

只要增加中国钢铁的关税,就能给印度钢铁制造商带来公平竞争的环境。
Himwant Prasad

6606

himwant prasad-South Asia-17 hours ago-Follow

China buy''s Iron Ore from India. Converts it into still profiles in Chinese mills, then exports it to India. Will any mediaman do some research on its root causes.

中国从印度购买铁矿石。把矿石变成钢材,然后出口到印度。有没有媒体的朋友研究一下根本原因呢?
Raj Iyer

1519

Raj-17 hours ago-Follow

Very well, we've been through this before. After all the Govt itself is a huge producer of steel. And we've had anti-dumping duties in the past. Just because someone else has a huge inventory doesn't mean we've to buy it.

很好,我们以前也经历过。毕竟政府本身就是一个巨大的钢铁生产国。我们过去也遭遇过反倾销税。仅仅因为别人有大量的存货并不意味着我们必须买它。
Sudharman Kk Sudharman Kk-18 hours ago-Follow

Should ENCOURAGE , SOEED UP DAMS, BRIDGES , CONSTRUCTION DURING THIS PERIOD TO MAKE USE OF THE SITUATION , GET READY ?

应该利用这种形势促进、加快大坝、桥梁的建设,做好准备了吗?
Ekdesi

24161

ekdesi-USA-18 hours ago-Follow

India should not allow the Chinese dump.

印度不应该允许中国倾销商品。
Vasanth Manickam

875

Vasanth-18 hours ago-Follow

good for Indian consumers who will have access to cheaper steel.. a boon for infrastructure development

这对印度消费者来说是好事,因为他们可以买到更便宜的钢材。这对基础设施的发展是一个福音
Arun Kumar

65

Arun Kumar-11 hours ago-Follow

If chinese steel inside india then indian steel makers will die. So increase in import duty of steel and steel fabricated products immediately.

如果中国的钢铁进入印度,那么印度的钢铁制造商将会死亡。因此,立即增加钢铁制品的进口关税。
Rajd

274

rajd-13 hours ago-Follow

Have faith. Modi is the modern day Chanakya. He''ll not let India become a dumpster for China made steel. Our omen steel industry comes first.

要有信心。莫迪是现代的考底里耶。他不会让印度成为中国制造钢铁的垃圾箱。会优先考虑我们本国的钢铁工业。
Abhishek Oza

2213

Abhishek Oza-Mumbai-14 hours ago-Follow

Indian manufacturers must compete with international players.

印度的制造商必须和国际制造商竞争。
Arun Kumar Gupta Arun Kumar Gupta-15 hours ago-Follow

The news is about steel dumping in Indian markets by China and the BJP followers are crying Hail Modi! Hail Modi!.

新闻说的明明是中国将钢铁倾销到印度市场,结果人民党的支持者们高呼着莫迪必胜,莫迪必胜!
Ramesh R

3218

Ramesh-18 hours ago-Follow

India can not be compared with China as it has maintained good relationship with all Countries including US n therefore Modi will not face any problem on the trade war n Steel which is much needed in Indian Industry must satisfy it very well.

不能拿印度和中国比,印度和所有国家—包括美国在内—都保持着良好的关系,因此莫迪不会面临贸易战问题,钢铁在印度工业中需求很旺盛,也没问题。