原文标题:China did not expect India to give up so easily in 1962
原文链接:http://timesofindia.indiatimes.com/city/nagpur/China-did-not-expect-India-to-give-up-so-easily-in-1962/articleshow/11418582.cms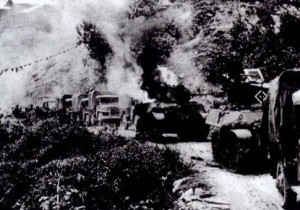 NAGPUR: China did not expect India to give in so easily in the 1962 war, so much so that the People's Liberation Army (PLA) overran Indian posts and reached deep into Tezpur in the plains of Assam, said Colonel (retd) Abhay Patwardhan. He was delivering a lecture as part of a series organized at the Dharampeth College of Arts.

Even fifty years after the war, scars of the debacle remain fresh and the ex-serviceman came up with some rare declassified documents related to the war. Addressing a small audience of mainly senior citizens, Colonel Patwardhan showed a letter citing an admission by then Chinese Premier Chou En-lai to a veteran journalist. Chou En-lai had gone on record saying Chinese leaders were surprised at the feeble resistance of the Indian Army.

Patwardhan, now a defence analyst, also showed a telegram shot off to US President John F Kennedy by Indian Prime Minister Jawaharlal Nehru, in which the latter pleaded for more help from the superpower. As the PLA was over running post after post, Nehru sent the frantic cable depicting the situation and asked for jet fighters and transport planes to stem the Chinese tide.

那格浦尔:作为达拉姆佩斯艺术学院组织的一系列活动的部分,已经退役的陆军上校帕瓦罕发表了一次演讲。他称,中国没有预料到印度在1962年中印战争中如此轻易就投降,以致于PLA占领印度哨所并深入阿萨姆邦平原的提斯普尔。



甚至在战后50年,这场灾难的伤疤仍然令人记忆犹新。这名退役军人给出了有关这场战争的一些罕见解密文件。在给一小群主要是年长者的听众发表演讲时,陆军上校帕瓦罕展示了一封信,这封信提到当时的中国总理周恩来对一名资深记者的坦诚。周恩来公开称中国领导人对印度军队的微弱抵抗感到吃惊。





帕瓦罕如今是一名军事分析家。他还展示了印度总理贾瓦哈拉尔·尼赫鲁发给美国总统约翰·F·肯尼迪的一封电报。尼赫鲁在电报中请求超级大国给以更多援助。随着PLA占领一个又一个哨所,尼赫鲁发了一份描述处境的加急电报,要求提供战机和运输机,以遏制中国人的攻势。



Nehru's telegram mentions India was grateful for the help it earlier received from the US. He says that Bomdila, the headquarters of North Easter Frontier Agency (NEFA), was already surrounded by the Chinese and Indian forces amounting to two divisions (18 infantry battalions) were fighting a grim battle. Nehru had expressed uncertainty about how many of them would be able to find their way back safely to the Corps headquarters in Tezpur. Nehru added for emphasis that the Chinese forces were heading toward Leh and there was nothing to stop them after that.

Patwardhan brought memories of the war alive with his presentation to an audience that might have only heard radio broadcasts as teenagers as that time. A 1971 war veteran himself, Patwardhan was 15 years old at the time. He also showed a picture depicting an Indian jawan cooking in a makeshift kitchen, showing how the Army was low on rations besides other equipment.



尼赫鲁的电报提到印度非常感谢美国早先提供的帮助。他称东北边境特区(NEFA)的总部班迪拉已经被中国人包围,总计两个师(18个步兵营)的印度军队正在进行严酷的战斗。尼赫鲁不确定他们中有多少人能够安全返回提斯普尔的军团总部。他补充强调称,中国军队正向列城前进,过了列城就没有什么可以阻止中国人了。





帕瓦罕的演讲勾起了听众对战争的回忆。这些听众当时还年轻,而且当时也许只能通过无线电广播了解这场战争。而身为1971年印巴战争老兵的帕瓦罕当时是15岁。帕瓦罕还展示了一张显示印度士兵在临时厨房做饭的图片,表明当时除了装备之外,给养也很差。




以下是印度网民的评论:




AM (Del)
09 Jan, 2012 03:58 AM
Another example of what congress and spineless politicians have been doing to India for decades..... Time to bring in some major changes



这是几十年来国大党和没有骨气的政客对印度所做事情的又一个例子...该带来一些主要改变拉
Vinod Dawda (Aligarh)
09 Jan, 2012 04:23 AM
The spineless response to Chinese by the Indian leadership which was essentially naive Nehru at the time set the trend for the future with Pakistan being used as a proxy by the Chinese. There was no need to use its own forces against such a feeble force. This ensured that Pakistan can get hormonal every now and then and India will give some shrill response. How right they have been so far. We can look at a grim future with totally clueless political leadership for some time.



印度领导层对中国人的回应没有骨气,本质上来说是幼稚的。尼赫鲁当时定下了巴基斯坦未来被中国人当做代理人的趋势。没有必要使用自己的军队来对付如此虚弱的军队。这使巴基斯坦时不时像吃了激素一样,印度然后就以尖叫回应。他们目前为止做得太对了。毫无头绪的政治领导层让我们看到的是严峻的未来。




sree (kochi) replies to AM
09 Jan, 2012 02:00 PM
yup.. we could try anna hazare as a single powerful leader for india. His penchant for violence might scare the chinese to leave tibet and xinjiang.




是的...我们可以试着让安纳·哈扎尔当印度的单一强大领导人。他的暴力倾向可能让中国人吓得离开xz和xj。




(三泰虎注:安纳·哈扎尔是印度反腐斗士,是甘地主义者)



Valentine Anthony (Baguio City, Philippines)
09 Jan, 2012 05:07 AM
Is it surprising that India gave up "so easily"? For this it is a big NO! But it is nothing to do with non-alignment and Indian democracy. India simply lacked the socio-economic-political mettle in 1961.



印度如此"轻易"放弃是不是令人吃惊?对于这个问题,答案:不是!不过与不结盟和印度皿煮没有关系。印度1962年纯粹就是缺乏社会、经济、政治勇气。
toga101 (hahahaha)
lol "urrr... we didn't expect the gandus to raise their hand like that, I thought he's tossing a grenade so I shot him" or "we are running out of food because we captured too many gandus"



...我们没有预料到印度士兵会那样举起手,我以为他是要扔手榴弹,所以我向他射击。或者说由于俘获太多印度士兵,我们粮食快耗尽了




GlobeSon (Sydney) replies to Valentine Anthony
13 Jan, 2012 07:26 AM
It actually has to do with all that... Nehru was a idealist and felt there would be no aggression against non-aggressive, non-aligned democratic India. He did not see the chinese has a dagger in the other hand while they extended one hand for friendship. He was too naive to be a PM and paraded around the world as a leader of the democratic movement that was sweeping across the world.




尼赫鲁是个理想主义者,认为不侵略和不结盟的皿煮印度不会受到进攻。他没有看到中国人伸出一只手表示友好的同时,另外一只手拿着匕首。他太幼稚了,不适合当总理。作为席卷全世界的皿煮运动的领导人,他在世界各地到处炫耀。




Valentine Anthony replies to GlobeSon
13 Jan, 2012 08:12 AM
Thank you for your comment, which is correct on Nehru. The onus was on him as the first PM of India. Is it his "Tryst with destiny....", the eloquent speech on the eve of India's independence?




谢谢你的评论,用在尼赫鲁身上是正确的。作为印度的首任总理,责任应该归到他身上。是否正如他在印度独立日前夕发表的雄辩演讲"命运之约..."?



JAY (USA)
09 Jan, 2012 08:05 AM
NEHRU WAS PATHETIC.....A SHAME TO THE COUNTRY.....



尼赫鲁是悲哀的...国家的耻辱...
Raj (India)
09 Jan, 2012 09:04 AM
The next Chinese attack would not be of the same fashion as before where human waves attacked posts but would rather be a massive missile and artillery barrage on forward posts followed by lightning ground strikes all across the front. This is the scenario the Chinese have practiced so far in their war games and it is prudent to realize that this probably what they plan to use in any future engagement with Indian forces. It is bizarre to claim that Indian response was "weak" or "meager" by the Chinese because, compared to the forces thrown at the Indian border by the Chinese, the Indian side was quite small in size and moreover poorly equipped. Most of the forward posts that were over run had used all their ammunition and had to finally resort to bayonets!



中国人的下一次攻击不会像以前一样用人海战术攻击哨所,而是大规模的使用导弹和密集炮火攻击前沿哨所,随后全线闪电式地面进攻。这是中国人迄今为止的战争演练剧本。可能是他们未来和印度军队交手时使用的计划,能够认识到这点是明智的。相比中国人进攻印度的军队,印度军队规模非常小,更重要的是装备不良,所以中国人声称印度反应"虚弱"或者"不足"是奇怪的。大多数被占领的前沿哨所都用光了所有武器弹药,最终只好拼刺刀!





原创翻译:三泰虎 http://jblasi.com




sree (kochi) replies to JAY
09 Jan, 2012 01:57 PM
because of him india exists. No one expected india to last as a country back then.




印度正是因为有了他才存在。当时没有人预测印度会以一个国家保存下来。




GlobeSon (Sydney) replies to sree
13 Jan, 2012 07:22 AM
Credit goes to the democratic fabric of India society and the (largely) tolerant Indians. Else you can see whats happenned to our estranged brother Pakistan that is on the verge of disintegration.




应该归功于印度社会的皿煮成分和宽容的印度人。否则你会看到跟我们不和的巴基斯坦兄弟身上所发生的事情,即正处在解体的边缘。




npk (B'lore) replies to sree
09 Jan, 2012 04:34 PM
Politicians hide behind the soldier's gun...i never respect them...might be in Kochi CONG still rule...but years are numbered for Nehru and his Family...wait and watch




政客躲在士兵的枪后面...我从来都不尊敬他们...也许国大党仍然会统治科钦...不过尼赫鲁和他家族的日子屈指可数了...等着瞧吧



Rajaruban Rajindram (Klang)
As everyone of us knows, China claims Arunachal Pradesh solely because the area is part of southern Tibet. Thus it claim it has historical rights on this area, thus seeking to annexing it into China. If we say this claim is valid, then we should look into other side of story. Tibet, historically and culturally has more links to India, It's way of life mostly influenced by Buddhist doctrine. Tibet was also northern part of Kushan Empire, which its Capital was Benares, which is in India. To know more of this, try googling Kushan Empire.

Apart from this China never had any historical footprints in Tibet as what it claims now. If China still claims that Arunachal Pradesh is part of China, then India has every rights to claim whole of China as It's territory. The reason, China is predominantly Buddhists, with heavy Buddhism culture which was heavily influenced by India. Apart from that, China's prestigious martial art, Shaolin Kung Fu, is originated from southern India, history claims that Indian monk, Bodhidharma, who taught the Chinese to fight, was a prince from Pallava Empire. So why not Indians turn the table now, and assert itself to protect It's integrity and honour by teaching the Chinese once again in history a valuable lesson. For this I personally feel India should be more bold and strong politically and mentally.



众所周知,中国声称对"阿鲁纳恰尔邦"拥有主权的唯一原因是该地区是藏南的一部分。所以中国声称自己历史上对该地区拥有主权,因此寻求将其并入中国。如果我们说这个声称是有效的,那么我们可以看看历史的另一面。xz历史上和文化上与印度有更多联系。它的生活方式主要受到佛教教义影响。 xz也是贵霜帝国的北部地区,而贵霜帝国的首都是印度的贝拿勒斯。想要详细了解可以谷歌搜索贵霜帝国。





(三泰虎注1:贵霜帝国是兴起于中亚细亚的奴隶制国家,创始者为大月氏的贵霜部落首领。在其鼎盛时期(105年——250年)疆域从今日的塔吉克绵延至里海、阿富汗及恒河流域。贵霜帝国在迦腻色伽一世和其承继者统治之下达至鼎盛,被认为是当时欧亚四大强国之一,与汉朝、罗马、安息并列成为四大帝国)





(三泰虎注2:贝拿勒斯现在叫瓦拉纳西,是印度教圣地、著名历史古城)





除此之外,中国从来没有在xz留下任何历史足迹。如果中国仍然声称"阿鲁纳恰尔邦"是中国的一部分,那么印度完全有权利声称整个中国是印度领土。原因是中国人大部分是佛教徒,拥有受到印度影响的大量佛教文化。此外,中国享有声望的武术和少林功夫发源于印度南部。历史表明教中国人打斗的印度和尚菩提达摩是帕拉瓦帝国的王子。为什么印度人现在不扭转局面,再次像历史上一样给中国人上宝贵的一课,从而保护自己的领土完整。因此,我个人认为印度应该在政治和思维上更加大胆和坚强。




Kunwar (melbourne) replies to Rajaruban Rajindram
09 Jan, 2012 11:06 AM
It may be far fetched to suggest that China itself can be claimed by India on cultural grounds, but some facts generally obscured need be noted. Tibet was not part of the Chinese nation or state in history. The Chinese emperor received some tribute from the Tibetan head of state in acknowledgement of its power and overlordship as a SUZERAIN,asdistinguished from a SOVEREIGN. Tibet had an autonomy as good as independence. Secondly, Tibet itself has been at times part of kingdoms in India e.g., Kashmir. Thirdly, Arunachal area was under British control from India, not under Tibet for over a century -- no question of China at all -- and under International law such a situation lasting for over fifty years is treated as tenable. Arunachal area, as Nehru had shown in his communication to Chou en Lai, has inseparable cultural and historical bonds with India (see Parashuram Kund etc.) Very reasonably, India could and should ask for the area extending from Lake Mansarovar and along the river Tsangpo(Brahmaputra) which are India,s water lifeline. But a weak entity cannot push for its claims. Diplomacy without military strength is music without instrument.




印度以文化为根据声称对中国拥有主权可能太过牵强。但是必须指出一些被掩盖的事实。xz历史上并不是中国的一部分。xz首领向中国皇帝朝贡,承认中国宗主国的地位。这是区别于主权的。xz仍然和独立一样自治。其次,xz有时也是印度王国的一部分,比如像克什米尔一样。第三,从英国统治时起,"阿邦"受到印度控制达一个多世纪,而不是归xz统治——更不用说中国了。根据国际法,统治超过50年被认为是站得住脚的。正如尼赫鲁在和周恩来交流时所表明的那样,阿鲁纳恰尔地区和印度有不可分割的文化和历史关系。印度应该声称从玛旁雍错湖一直沿着印度生命线布拉马普特拉河等地区属于印度。不过软弱者无法提出这个声明。没有军事力量的外交就像是在没有乐器的情况下弹奏音乐。



jyotimukho (visakhapatnam)

India's Prime Minister was much more surprised than Chinese when they drove us back and enforced a humiliating defeat. Our visionary(?) leader with his matured experience thought that the his order to drive out the Chinese would be an extension of Hyderabad annexation or Goa liberation. So strong was the thrashing that our leaders are always in denial mode when asked about the frequent advancement and provocation by the Chinese.



当中国人击退我们和让我们遭受耻辱失败时,印度总理比他们更吃惊。我们拥有成熟经验的空想领导人以为下令驱逐中国人就像是下令合并海德拉巴或者解放果阿邦一样。打击如此之大,以致于我们领导人每次被问及有关中国人的挑衅问题时总是表示否定。
Johnson (Chennai)
09 Jan, 2012 10:44 AM
Indian Army could not had done any better- with no equipment ,no rations not even snow clothing. Armed forces were neglected then and we paid a price. The situation is the same now....
Agree (21)Disagree (4)Recommend (7)



印度军队的表现已经最好了——没有装备、没有给养、甚至没有冬装。武装部队当时被忽视,我们付出了代价。现在的情况也一样...
Raj (KL)
09 Jan, 2012 01:58 PM
Whatever the reasons they can give for the armed forces retreat, but its a shame for them to call themselves a soldier. A true soldier/warrior will stand and fight no matter how big the enemy is. Thats the true ethics of a soldier. Not running away and silly giving excuses. its a honor to die in the battlefield rather dying in late life with humilation and running away from ones duty.
Agree (1)Disagree (14)Recommend (0)



不管他们以什么理由来为军队撤退辩称,但是把他们叫做士兵是个耻辱。不管敌人多么强大,真正的士兵是战斗到底。那是士兵的真正操守,而不是逃跑然后给出愚蠢的理由。在战场上战死是光荣的,而不是逃避自己的责任和在日后屈辱生活中死去。
Indian (India)
09 Jan, 2012 04:49 PM
Nehru completely lacked military understanding. His flawed policy of Non Alignment led China to invade Indian in midst of the Cuban Missile Crisis between US and USSR. If Nehru was vigilant, Tibet would never have been occupied by China after British left India. Nehru also messed up Kashmir issue taking it to UN, against Sardar Patel's advice. This emboldened China further. Nehru's tenure as PM was unprecedented and lasted 15 years. Subhash Chandra Bose easily could have become the PM, but Nehru did not allow it to happen. It is not a coincidence that Nehru copied Stalins five year plans model of development.



尼赫鲁完全缺乏军事理论。他错误的不结盟政策让中国在美苏古巴导弹危机期间入侵印度。如果尼赫鲁有警惕,英国离开印度后,xz就不会被中国占领。尼赫鲁不听从萨达尔·帕特尔的建议,而是将克什米尔问题提交给联合国,从而搅乱了这个问题。这让中国更加大胆。尼赫鲁的总理任期是史无前例的,当了15年呢。鲍斯很容易就可以当总理,但是尼赫鲁不愿意。尼赫鲁复制斯大林的五年发展计划也不是个巧合。
R Kumar (London)
09 Jan, 2012 10:26 PM
China does not have the need to attack. It knows that it can achieve the same results by bribing Indians to do the job for them!



中国没有必要攻击印度。中国知道可以通过贿赂印度人,让其帮助办事来取得同样的结果!
1962年中印战争令印度人无法忘记。已经退役的印度陆军上校帕瓦罕如今是军事分析家,他在一次演讲中称,中国没有预料到印度在1962年中印战争中如此轻易就投降,以致于PLA占领印度一个又一个哨所并深入阿萨姆邦平原的提斯普尔。有的印度网友辩解称,印度军队装备不良、后勤不济,表现已经够好了。有的印度网友称印度开国总理尼赫鲁是悲哀的,是国家的耻辱。