1月20日,中国首列中低速磁悬浮列车下线。印度时报进行了相关报道,报道称中国中低速磁浮列车的成功下线对德国和日本来说是坏消息,因为"它们正急切等待在北京和上海周围铺设磁悬浮线路的合同"。有的印度网民对同为亚洲人的中国人赶上西方表示祝贺;有的印度网民则称"中国又一次证明领先印度"。


原文标题:China launches 'magnetic' train
原文链接:http://timesofindia.indiatimes.com/world/china/China-launches-magnetic-train/articleshow/11585569.cms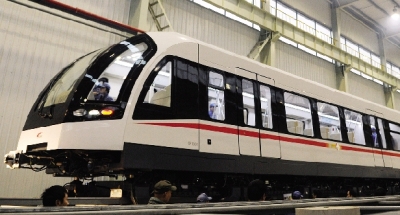 BEIJING: China has built a lighter version of magnetically levitated (maglev) train that it plans to use on mountain slopes and highly populated areas of Beijing and Shanghai. The train will run at less than one-fifth of the speed of the Japanese maglev trains.



北京:中国制造了更轻型的磁悬浮列车,计划用于北京和上海的山坡和人口密集区域。列车运行的速度将不到日本磁悬浮列车速度的五分之一。



It is a bad news for maglev makers in Germany and Japan , who were eagerly awaiting contracts for lying of maglev routes around Beijing and Shanghai.



这对德国和日本的磁悬浮列车生产商来说是坏消息,它们正急切等待在北京和上海周围铺设磁悬浮线路的合同。



The train was made operational on Friday. Chinese maglev maker, Zhuzhou Electric Locomotive Co Ltd, claimed its product is comparatively cheaper and more environment-friendly . The small three-carriage train can touch a maximum speed of 100km an hour and carry 600 passengers. It has a minimum turning radius of 50m and can easily run through heavilypopulated residential areas and hilly slopes, officials said.



列车于星期五投入运营。中国磁浮列车生产商株洲电力机车有限公司声称,它的产品相对更便宜和更环保。官员称,小型的三节车厢编组列车最高速度可达100公里/小时,可载客600名。它的最小转弯半径是50米,可以轻松通过人口稠密的居民区和山坡。



"The Chinese version of maglev is a lot safer and quieter as compared to the conventional ones,'' said Zhuzhou Electric Locomotive Co Ltd general manager Xu Zongxiang . "The company has minimized the risk of derailing or overturning.''



"相比普通列车,中国版磁悬浮列车要安全和安静许多,"株洲电力机车有限公司总经理徐宗祥说。"公司已经将脱轨或者翻车的风险降到最低。"






以下是印度网民评论
Siloo Kapadia (Singapore)
23 Jan, 2012 05:34 PM
Once again China proves that they are ahead of India. They are more interested in learning from the world to better their country. Most Chinese students who go abroad learn as much as they can, then return and build empires in China and FOR China. Too many Indian students, however, still go abroad with the idea of cutting their ties with India and making a better life for themselves. Also Chinese are quick to see their own faults. They KNEW theyw ere behind the world so are doing everything to catch up. What is India doing?China was BEHIND us in the 1960s, now they ae generations ahead of us. What happened? For one thing, they learned to cut through their red tape, their xenophobia, their inferiority and superiority complexes, and any crazy idea of economic socialism. India has yet to make a serious advance in any of these areas. Come on, India, what are you waiting for? STOP COMPARING YOURSELVES WITH PAKISTAN. THEY ARE A FAILED STATE. Try to raise the bar and do better than mediocre. Learn to welcome foreigners rather than see them all as spys. And set out to entice NRIs to come back to settle. We can do it, IF we try.
中国又一次证明领先印度。他们更感兴趣于向世界学习并更好建设国家。大多数出国的中国学生尽可能多的学习,然后回国建设中华帝国。然而,太多印度学生仍然抱着切断他们和印度连续并为自身谋求更好生活的想法出国。中国人也能快速看到自身错误。他们知道自己落后世界,所以竭尽一切追赶。印度在做什么呢?
中国在1960年代落后我们,如今领先我们几代。发生什么了?首先,他们摒弃繁文缛节、仇外、自卑情结和优越感、社会主义经济的任何疯狂想法。而印度在这些方面仍然有待实质进步。加油,印度,你还在等什么呢?停止将自己和巴基斯坦比较。他们是失败国家。努力提高标杆,不要甘于平庸。学会欢迎外国人,而不是将他们都看做间谍。着手吸引海外印度人(NRIs)回国。如果努力,我们能成功。
Sudheer Grover (United States of America) replies to Siloo Kapadia
26 Jan, 2012 08:04 AM
Siloo and folks who agree with and recommend the comment, can buy a one way ticket to China. I will gladly come to see you off. Siloo first point the finger at yourself. You live in Singapore and have the gall to complain about other Indians. I am absolutely sure that you and 28 other folks who agree with you, do not know the following facts:
1) INDIA is THE OLDEST and THE LARGEST DEMOCRACY in the WORLD.
2) You can do what your heart desires in INDIA. Try doing that in China.
3) You and 28 other ignorant souls compare INDIA to Pakistan.
4) How many times have you visited Pakistan to call it a failed state?
Just by reading a couple of articles in the news paper does not make you THE PANDIT to form an opinion about any country. I am a PROUD INDIAN living in another democratic country, United States of America.
Siloo以及赞成和推荐(Siloo的)评论的家伙可以购买去中国的单程票。我将乐意前往送行。Siloo首先应该检讨自己。你居住在新加坡,竟然好意思抱怨其他印度人。我绝对相信你和其他同意你的28个家伙,不知道以下事实:



印度是世界上最古老和最大的皿煮国家。




你可以随心所意在印度做事。试试在中国那样做。




你和其他28个无知的家伙将印度和巴基斯坦相比较




你称巴基斯坦是个失败国家,那你访问了巴基斯坦多少次?



只是在报纸上阅读了几篇文章并不能让你成为主导有关国家舆论的博学家。我是一名居住在另一个皿煮国家——美国的自豪的印度人。
Siloo Kapadia replies to Sudheer Grover
26 Jan, 2012 03:40 PM
Sudheer, you are an ignorant Indian living in a country that is going bust, the United States of America. That is all. Yes, we tried very hard to go back to India but could not get a job there. Or else we would be living there. You surely not only have no idea as to what is going on in India and China, let alone America.
Sudheer,你是居住在即将破产的国家——美国的无知印度人。是的,我们努力回到印度,但并不能在那里找到工作。否则我们将在那里居住。你肯定对印度和中国所发生的事一无所知,更不用说美国。
Sudheer Grover replies to Siloo Kapadia
04 Feb, 2012 02:13 AM
Bandhu, Take a chill pill. NEVER EVER criticize BHARAT MATA. Mera BHARAT MAHAN. As a matter of fact DO NOT EVER criticize USA. BHARAT and USA together will RULE the world. FREEDOM is the concept only BHARAT and USA know. You say quote "Yes, we tried very hard to go back to India but could not get a job there. Or else we would be living there." You are incompetent by BHARAT standards, raise your level of intelligence, come out of the hole you are living in and smell the fresh air. Probably then BHARAT mata will consider your case...
冷静一下。永远不要批评印度之母。事实上,别再批评美国。印度和美国将一起统治世界。自由是只有印度和美国才理解的概念。你说"是的,我们努力回到印度,但并不能在那里找到工作。否则我们将在那里居住"。按照印度标准,你是无能的。从你居住的坑洞走出来并呼吸新鲜空气吧。可能那时印度将考虑你的情况...
Bal (Fra)
23 Jan, 2012 01:26 AM
Come on India it is time to build the maglev train. Work with China, instead of just admiring their progress. We Indians are capable of doing it.
加油,印度,是时候制造磁悬浮列车了。和中国合作,而不是仅赞美他们的进步。我们印度人有能力那样做。
ghouse (india)
22 Jan, 2012 04:28 PM
i request my indian brothers dont talk against china now,we must appreciate that atleast they are not dependent on west as we depend for each and everything from west countries.. china people not only good at this innovations,apart from that they are manufacturing their own nuclear weapons on their own land and creating millions of jobs everyyear and saving billions of dollars in feeding to west countries.
我要求印度同胞现在不要抨击中国。我们必须至少欣赏他们不依赖西方,而我们一切都依靠西方...中国人不仅擅长创新,还在自己领土自主制造核武器,并每年创造数以百万计的工作,在供养西方国家中省下数十亿美元。
W (SF) replies to ghouse
22 Jan, 2012 05:28 PM
Good comment. What the West is angry about is China doesn't purchase their products at ridiculous prices, but instead spends the time and effort to learn the technology.
好评论。西方国家生气的是:中国不以荒唐的价格购买他们的产品,而是花时间和精力学习技术。
SM (Bangalore) replies to ghouse
23 Jan, 2012 01:17 AM
Wish they made quality an important aspect of products being manufactured. Most of the products are anyway made in China, there is a vast difference in quality to the products made before the Chinese invasion into the manufacturing industry
希望他们生产高质量的产品,这是很重要的方面。不管怎么说,大多数产品在中国生产。在中国人侵入制造业前,(世界上)产品的质量完全不同。
ghouse replies to SM
23 Jan, 2012 12:45 PM
china's population is 1.2 billion and their economy is 7 trillion dollar and our population is 1.25 billion and our economy is 1.7 trillion dollar gdp, millions of indians are migrating to other countries like US,CANADA,AUSTRALIA,uk for job purposes and they are settling down there itself and in china,very few lakhs of poeple are going to foreign countries for job purpose..
中国人口是12亿,经济是7万亿美元。我们的人口是12.5亿,经济是1.7万亿美元。数以百万计的印度人移民到其他国家寻求工作并在那里定居,比如美国、加拿大、澳大利亚、英国。而在中国,只有几十万人为了工作出国。
German (Germany)
22 Jan, 2012 02:53 PM
The Chinese copied the Technology from us Germans. We are very angry about this. This is a typicl example of how the Chinese bring in Hi-Tech into China by promising them future contracts and then copy them for themselves......These guys also did the same with our cars and even copied the your Indian Bajaj motor cycle and all those pharmaceuticals........The Chinese are BIG COPY CATS and nothing else. Many German companies are coming back.
中国人从我们德国人抄袭技术。我们对此非常生气。这是一个典型例子:中国人通过许诺日后合同引入高技术,然后为自己山寨...这些家伙对我们的汽车也如此。他们甚至山寨你们印度的巴贾杰摩托车和所有那些药物...中国人是大山寨猫,其他什么也不是。许多德国公司在撤回。
Laughtusuun (Wronendofboot) replies to German
23 Jan, 2012 08:43 AM
Don't talk too much. When the Euro collapes and the Germans sack you, you might have to go to China to work in their BIG COPY CAT factories.
别说太多。当欧元崩溃和德国人解雇你时,你可能不得不去中国的"大山寨猫"工厂工作。
DM replies to Laughtusuun
24 Jan, 2012 04:09 PM
The facts remains that not too long ago the Chinese were exposed of selling fake drugs in Africa with the tag 'Made in India'. The Germans pay more to their unemployed as social benefits than the Chinese do to their employed.I rather be Unemployed in Germany than be employed in China
事实是,中国人不久前被曝光在非洲销售贴有"印度制"的假药。相比中国人对待就业者,德国人对失业者支付更多社会福利。我宁愿在德国失业,也不愿在中国就业。
Laughtusuun replies to DM
26 Jan, 2012 02:13 AM
You rather be "unemployed in germany....." This statement really reveals how much pride you have in yourself, a pride that is missing not only in you but in many other Indians. You are just a parasite in germany , I doubt you contribute anything at all. Where is my cockroach spray...?
你宁愿"在德国失业...",这个声明真实揭露你是多么为自己自豪,这个自豪不仅在你,而且在许多其他印度人身上丢失。你只是德国的寄生虫。我怀疑你是否有任何贡献。我的蟑螂喷射剂呢...?
SKB (Ght)
22 Jan, 2012 10:07 AM
It is good news for us Asians that some among us are catching up with the Europeans and Americans. Instead of rediculing them without knowing the truth which we Indians do(Like it or not), we should congratulate the Chinese and take a leaf out of their innovative prowess.
我们其中一些人赶上欧洲人和美国人,这对于我们亚洲人来说是好消息。我们印度人与其不明真相的嘲笑他们,还不如祝贺中国人,并向他们学习创新技术。
FACTS (Mumbai)
22 Jan, 2012 08:10 AM
It is also bad news for Indian 'talkers', once again it proved doers win, talkers fail. The Tata Nano could make the headline news, but it just couldn't deliver the promise. Tata could spend years talking about the Nano "innovation", at the end what mattered is the reality in the market place. There was no innovation in such a car after all as we already found out. Keep going. The maglev companies in Germany and Japan can now turn to India (if India can put together the billions of dollars they will ask for).
这对于印度"谈论家"来说也是坏消息。它又一次证明动手者胜利、谈论者失败。塔塔Nano汽车可以成为头条新闻,却不能兑现承诺。塔塔讨论Nano"创新"数年,结果市场现实才是重要的。我们已经发现,这样的汽车并没有什么创新。继续。德国和日本的磁悬浮公司现在可以转向印度了(如果印度能积聚他们所要求的数十亿美元的话)。
badegg (US) replies to FACTS
22 Jan, 2012 09:57 AM
If Germany and Japan want to sell maglev trains to India, India should turn the offer down. China built a high-speed maglev in Shanghai at cost of 9 billion RMB back then. China did it because there was an argue between two groups of scientists and engineers before China's massive construction of high-spped railway system.
One group prefered maglev since it is a more advanced technology and maybe the trend.China's then-prime minister Zhu was in this group. Another group chosed traditional high-speed since it is a proven technology and it is more suitable for China's technology and engineering level.
Chinas central gov wanted to calm down the debate using the experimental project.The project proved that the technology was not mature enough for China's massive high-speed raiway system that costs China more than one trillion dollars. But China gained a lot from the project. China bargained technology transfer from German company since China was the only possible user of the technology. Today China is still working on domestic model of high-speed maglev trains that target inter-city mass transportation, and also the low-medium speed version I in this news)that is suitable for inter-city mass transportation.
如果德国和日本想向印度卖磁悬浮列车,印度应该拒绝。中国在上海以90亿人民币建造了一条高速磁悬浮。中国之所以这样做,是因为在中国大规模建设高铁系统前,两派科学家和工程师出现争论。
一派更喜欢磁悬浮,因为它更先进并且可能是趋势。当时的中国总理朱就是支持该派。另一派选择传统高铁,因为它是被证明的技术,更适合中国技术和工程水平。
中国中央政府为了平静争议,使用实验工程。该工程证明这个技术对中国耗资1万亿美元的大规模高铁系统并不成熟。但中国在工程中收获颇丰。因为中国是这项技术的唯一可能使用者,中国对从德国公司转移技术讨价还价。今天,中国仍然为城际大规模运输用途的高速磁悬浮而工作,也在为适合城际大规模运输的中低速版本(本新闻提到的)而工作。
Hyperluminal (Wormhole) replies to badegg
22 Jan, 2012 10:22 AM
Then, I don't understand what's so special in Chinese Maglev trains? Its like travelling from Paris to New Delhi in a Concord plane in a 15 hours journey, right? Then in this case its better to travel in a normal Airbus A330 than travelling in a Concord which is highly expensive & less safe.
In the same way its economical & safe to use the normal passenger trains like shatabdi express, etc which normally travel at 150 kms per hour which is more than the speed of Chinease Maglev which travel at 100 kms per hour. Moreover there are no mountains in New Delhi & Mumbai :p
那么,我不理解,中国人的磁悬浮列车有什么特殊的吗?就像坐协和飞机从巴黎到新德里的15小时的旅行,对吗?那么这种情况下,乘坐普通的空客A320旅行,比乘坐非常昂贵和更不安全的协和飞机更好。
类似地,乘坐普通客运列车是经济和安全的,比如莎塔布迪特快等。它通常以150公里/小时的速度运行,比中国磁悬浮列车的100公里/小时的速度更高。更重要的是,新德里和孟买没有山。
badegg replies to Hyperluminal
22 Jan, 2012 10:49 AM
Maglev trains are more quiet, more confortable and more energy-saving. That's the trend for mass transportation. The slow-mediunm speed version is good for intra-city, short distance transportation that needs frequent stops.
Train system is the best way for mass transportation, and is good for large population country like India and China. Planes can do the work, but they are more costy and, use more energy (10 times of trains' energy use in average), and have less capacity.
Beijing-Shanghai high-speed trains moved more than 25 million passangers in its first half year and is still growing fast. 40 million passangers a year can make a high-speed railway profitable. The line's capacity is 100 million a year. You cannot imagine to use planes to move so many people between 2 cities.
磁悬浮列车更安静、更舒适和更节能,是公共交通运输的趋势。中低速版本非常适合需要频繁靠站的短距离市内运输。
火车系统是大众运输的最佳方式,适合人口众多的国家,比如印度和中国。飞机能完成这项工作,但更贵、更耗能(平均耗能是火车的10倍)、运能更低。
京沪高铁第一个半年运送超过2500万名乘客,并且仍然在快速增长。一年4000万乘客可以让一条高铁盈利。这条线路的运能是一年1亿人。你无法想象在两个城市间用飞机运送如此多人。