原文标题:Heartbreak for Vikas Krishan, out of Olympics after AIBA overturns win
原文链接:http://timesofindia.indiatimes.com/sports/london-olympics-2012/news/Heartbreak-for-Vikas-Krishan-out-of-Olympics-after-AIBA-overturns-win/articleshow/15348127.cms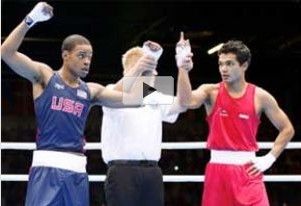 此次失意伦敦奥运会的美国拳击代表队终于保住了一线生机。在8月4日凌晨进行的69KG级比赛中,原本代表美国出战的22岁艾洛尔·斯潘瑟被判11-13告负,随后美国拳击队通过上诉得以战胜印度对手维卡斯,继续获得了1/4决赛的资格。

这场比赛是奥运拳击第142场比赛,国际拳联回去调出了比赛录像进行翻看,发现印度拳手有多次故意犯规的情况,但执法裁判并未给予扣分,最后国际拳联按照规定给印度选手追加扣了4分,这样,斯潘瑟就"起死回生",以15-13"逆转"晋级8强!从而成为美国奥运拳击男队唯一还没有被淘汰的拳手。能否在8进4的比赛中再胜一场拿到奖牌,避免"美国业余拳击史上最差战绩",就要看斯潘瑟的临场表现了。

早些时候,在另一场81公斤级的拳击比赛中,印度就苏米特·桑万(Sumit Sangwan)的首轮失利提出申诉,然而被国际拳联的比赛裁判团驳回。


以下是印度网民的评论:




Rahul (India)
what the hell happened????
Agree (10)Disagree (0)Recommend (1)



究竟发生什么了?




shkhrp (Thane) replies to Rahul
Your wife left! You were asleep. Now go back to sleep.




你老婆离开了!你当时睡着了。现在继续睡吧。



karthidg (Chennai)
This is how you need to organise olympics.. decide before the event starts whom to give medals and then start the olympics... Shame..
Agree (11)Disagree (1)Recommend (0)



你们就是这样组织奥运会的...赛前决定谁获奖,然后开始奥运会...耻辱。
savitoaraujo (Margao)
The AIBA has proven that their views are biased. They hve cheated us of a medal. Why always indians have to suffer. When it comes to our appeal they do not even bother to review it and for others they just overrule the decision. Pathetic!
Agree (17)Disagree (1)Recommend (2)



国际拳联证明了自己的偏见观点。他们骗走了我们的一枚奖牌。为什么总是印度人受伤。当我们申诉时,他们理都不理;当别人申诉时,他们就推翻原来的判决。可悲!
floyd_alan (India)
No wonder countries like US and China lead the medal table-it seems world superpowers have dominance everywhere from UN to Olympics panel. All the reasons given for overturning of decision are absolute nonsense. At least AIBA should have officially apologised to Indian contingent for such a debacle. Go on Mr. Spencer and do your "great nation" proud.
Agree (8)Disagree (5)Recommend (1)



难怪中美会统治奖牌榜,似乎世界超级大国统治从联合国到奥运会的每个地方。推翻原先判决的理由完全是胡扯。国际拳联应该就此正式向印度代表团道歉。斯潘瑟先生,加油,让你们"伟大的国家"自豪吧。




LOL (US) replies to floyd_alan 3 hrs ago
Atleast you agreed that India is not a superpower and cant be compared with US or China ...LOL
Agree (1)Disagree (1)Recommend (0)




至少你承认印度不是超级大国,无法与美国或者中国比较...笑...



Hitech (India)
That is too sad to hear considering the fact that he was a potential medal prospect in our contingent.
Agree (3)Disagree (1)Recommend (0)



考虑到维卡斯是我们代表团有潜力获得奖牌的选手,听到这个消息太难过了。
G Krishnamurthy (New Delhi)
Just wondering how much money the AIBA received for overturning the decision against Errol Spence. Obviously, the decision against Sumit Sangwan has no chance of being overturned - it was not requested by the USA.
Agree (15)Disagree (4)Recommend (2)



想知道国际拳联就推翻不利斯潘瑟的判决收了多少钱。很明显,不利苏米特的判决不可能被推翻——因为不是美国提出的申诉。
Santanu Banerjee (Fukuoka, Japan) 4 hrs ago
what a mess! India's Vikas Krishnan knocked out of Olympics aftre winning his bout. The US boxer appealed with AIBA and he was awarded 4 bonus points later to declare him winner. If so, why the referees are taking the trouble to judge the bouts. every decision should be taken by AIBA later on as per the TV footage. such a farce of rules. I look at it as a sheer case of partiality and unethical privilege!!!!! WHAT A SHAME AIBA !!!
Agree (18)Disagree (4)Recommend (3)



真是一团糟!印度的维卡斯获胜后被逐出奥运会。美国拳击队向国际拳联提出申诉,随后获得拳联的4分奖励。如果这样的话,那么裁判员就不用麻烦去现场给拳击比赛打分,国际拳联在赛后观看录像做出判决得了。闹剧似的规则。在我看来纯粹是偏袒和不道德的特权!国际拳联太无耻了!!!
dev (india) 4 hrs ago
Earlier, India were at the wrong end of the AIBA review system when the country's appeal against the close opening-round loss of Sumit Sangwan (81kg) was rejected although neutral commentators told it was day-light robbery. Now, Vikas Krishnan who was first judged winner against American Errol Spence by 13-11 had been ousted. It is well known the major members of AIBA are Americans. Similarly, when Ye Shiwen (china) made world record, infact, she beat men's record, there were false allegations of doping but when Missy Franklin or PHELPS win medals after medal its merit ( with due respect to both of them). Similarly, in female badminton 8 players were banned for match fixing as they deliberately loose to get easier opponents and not played in spirit of game, it was a flaw in system that final draw was not held together as everyone will try to get easier opponents. If americans and Indian converted american bump-lickers want to dominate olympic medals by cheating, thats fine, but please dont potray yourself as saviors of freedom, democracy and fairness. It stinks...
Agree (49)Disagree (2)Recommend (28)



早些时候,印度就苏米特·桑万的首轮失利提出申诉,虽然中立评论员表示判决是光天化日下的抢劫,国际拳联还是认定印度是错误一方,驳回了印度的申诉。现在,以13:11战胜美国选手斯潘瑟的维卡斯却被驱逐。众所周知,国际拳联的成员大多数是美国人。类似地,当(中国)叶诗文创造了世界记录,并实际击败了男子记录,却引来了服用兴奋剂的无端指责。但是富兰克林或者菲尔普斯获得一枚又一枚奖牌却能获得该有的尊重。类似地,在女双羽球比赛中,为了对阵不那么强大的对手,8名选手消极比赛,没有打出比赛精神,结果被禁赛。体制的弊端导致每个人力图避开强大对手。如果美国人和印裔美国人想要以欺骗的方式统治奥运奖牌榜,那么没问题,不过别把自己描述为自由、皿煮和公平的救世主。听起来令人厌恶...(译文来源:三泰虎博客)
Arjun TheHunter (Bangalore)
It shows that AIBA is biased towards US. This is just unfair...
Agree (4)Disagree (0)Recommend (0)



此举表明国际拳联偏袒美国,这是不公平的...
taichi (Madrid)
11 points went to 15? what a shame
Agree (7)Disagree (0)Recommend (2)



从11分追加到15分?太无耻了。




gokul harsh (Mumbai) replies to taichi
Surely, USA must have paid 4 millions for those 4 point to AIBA officials.
Agree (3)Disagree (0)Recommend (2)




当然,美国肯定为了这4分向国际拳联支付了400万美元。



Ram Nambiar (Muscat) 3 hrs ago
I would request the Indian Olympic Committee to immediately withdraw all our players from the games and return back to India in protest against America's racist attitude which AIBA shamelessly acknowledged.
Agree (17)Disagree (10)Recommend (6)



我请求印度奥运代表团立即让所有印度选手退出奥运会并回到印度,以此抗议美国获得国际拳联无耻认可的种族主义态度。
SHAIL (hyderabad) 3 hrs ago
WHAT IS SPORTS MINISTER AJAY MAKEN DOING IN LONDON....HOLIDAYING AT TAXPAYERS MONEY!!!!
Agree (23)Disagree (2)Recommend (7)



体育部长Ajay正在伦敦做什么...是用纳税人的钱在度假!
batra (delhi) 3 hrs ago
Indias 2 medal prospects are out of olympics beoz of bad decision making shame on AIBA
Agree (5)Disagree (1)Recommend (1)



印度2块潜在的奖牌被国际拳联的错误决定无耻地做掉了。
myalmightygod (India)
This olympic is turning to be more controvertial one.
Agree (5)Disagree (0)Recommend (1)



本届奥运正变得越来越具争议性。
Sandeep (Bangalore) 3 hrs ago
Countries should ditch any Olympics in the future that takes place in the UK, Australia or America(both US and Canada) They are just manipulated for the sake of their own benefit. They are clearly afraid of Asians and they know that they cannot win in any way other than by manipulating the results. We should simply walk out of this olympics. No point in wasting our time here.
Agree (15)Disagree (16)Recommend (4)



各国以后应该摒弃在英国、澳大利亚或则美洲(美国和加拿大)举办的奥运会。他们会为了私利而操纵比赛。他们明显害怕亚洲人,知道除非操纵结果,否则难以获胜。我们应该直接退出本届奥运会。在那里浪费时间没有意义。
IndianOnly (India)
This is ridiculous!! other day sumit sangwan was in same situation where he hit more punches but was not awarded victory even after India lodged an official complain. These guys seem to be against India.
Agree (8)Disagree (1)Recommend (0)



这是可笑的!几天前,苏米特的情况也类似,他击中对手更多次,却没有被判决获胜。甚至印度正式提出申诉后也被驳回。这些家伙似乎就是和印度过不去。
ANTHONY G (SAN FRANCISCO) 3 hrs ago
SHAME ON AMERICAN INTERNATIONAL BOXING ASSOCIATION.....THESE OLYMPICS IN WHITE ENGLAND ARE A FARCE....
Agree (11)Disagree (2)Recommend (1)



美国的国际拳联太无耻了...在英格兰举行的本届奥运会就是一场闹剧...
Saurabh (Toronto)
WTF... is this an Olympic event or a local mafia fight club?? ridicules..
Agree (21)Disagree (2)Recommend (2)



你TM的这是在干什么...这是奥运会比赛,还是当地黑手党的搏击俱乐部?荒谬...
Raj (Melbourne) 3 hrs ago
Now a billion plus fools will start criticizing the US , beliving in the fact Indians are top sportsmen . lol
Agree (12)Disagree (46)Recommend (3)



现在十几亿傻子会开始批评美国,会相信这样一个事实,即印度人是顶级运动员,笑




Father of Raj (US) replies to Raj 2 hrs ago
it seems u r the only intelligent person in this world.
Agree (8)Disagree (0)Recommend (1)




似乎你是世界上唯一聪明的人。




Karthik (Mumbai) replies to Raj 3 hrs ago
Happy weekend.. Be safe in Australia.. Heard in some news channels that australians are hitting indians.
Agree (7)Disagree (1)Recommend (1)




周末愉快...在澳大利亚平安无恙吧...在一些新闻频道听说澳大利亚人袭击印度人。




kaka g (noida) replies to Raj 3 hrs ago
I don;t who you are or from where. We are criticizing AIBA and organizer. From your name you also seems to be from 3rd world countries and doing 3rd grade job outside. At least support India
Agree (9)Disagree (1)Recommend (2)




我不知道你是谁,或者来自哪里。我们批评国际拳联和赛事组织者。从你的名字来看,你似乎也来自第三世界国家,在外面从事三流工作。至少得支持印度吧。



sunny (USA)
This is very sad.... and heart breaking
Agree (11)Disagree (2)Recommend (2)



非常难过...心碎了
Gaurav Sharma (ALigarh) 3 hrs ago
I saw that bout and.... after the 3rd round even krishna knows he has lost the match, BUt the decision surprised every one. However I think Boxing Federation should have respected the jury decision.
Agree (14)Disagree (2)Recommend (3)



我看了这场拳击比赛...三局过后,连维卡斯也认为自己输掉了比赛,但是判决让每个人吃惊。然而,我认为国际拳联应该尊重评判委员会的决定。
acvbangalore (bangalore)
bloody americans.. they have played their dirty politics here!
Agree (21)Disagree (5)Recommend (4)



可恶的美国人...他们在这里玩弄肮脏的政治(译文来源:三泰虎博客)。
Raaj (Kolkata ) 2 hrs ago
USA is best as a bully everywhere. When Chinese swimmer Ye Shiwen won two golds, they called it doping. When a US swimmer achieved a similar feat, it was 'ohh so great' and when Indian puglist Vikas won the fight, it was foul. This is really very sad how powerful countries wrest their might on third-world countries. This is the Olympic Hall of Shame.
Agree (26)Disagree (4)Recommend (11)



美国最擅长到处欺负人。当中国游泳选手叶诗文获得两枚金牌,他们说她服用兴奋剂;当美国游泳选手获得类似成就,他们高呼"很棒";当印度拳击手维卡斯获胜,他们说维卡斯有犯规。如此强大的国家歪曲第三世界国家真是非常令人伤心。这里是奥运会耻辱中心。
Basheer (Bangalore) 2 hrs ago
US desperately wants medals as china leading at the top,,,,overturning the result after 5 hours is just disgrace to sports and Olympic!!!
Agree (18)Disagree (9)Recommend (3)



美国拼命想要拿奖牌,因为中国引领奖牌榜榜首...比赛结束5小时后推翻结果是体育和奥运会的耻辱!!!
Abhishek Shukla (Delhi, India)
Again double standards shown at London Olympics.What a shame those cheaters again cheated with indians.
Agree (8)Disagree (3)Recommend (2)



伦敦奥运会又展示了其双重标准。那些骗子又欺骗印度人,太无耻了。
gopalkrishnan (Mumbai) 2 hrs ago
Are Americans looting all gold-medals to maintain their first-ranking in Olympics?
Agree (4)Disagree (7)Recommend (0)



美国人是想抢劫所有金牌,以保持其奥运会排名第一的位置?
Ban Olympics (Olympics should be banned) 1 hr ago
Olympics should be banned. It is a Cheaters Game.
Agree (10)Disagree (6)Recommend (1)



奥运会是骗子的游戏,应该被禁止。
Biswa (Singapore) 2 hrs ago
just saw the match, as an Indian I am sad but it seems the American actually overpowered Vikas throughout the game. I dont know techicalities much although. Anyway sad for India after disaster in Hockey and Badminton
Agree (10)Disagree (2)Recommend (1)



刚刚看了这场比赛,作为印度人,我感到伤心,但似乎美国人实际上整场比赛压着维卡斯打,不过我不太懂技术就是了。不管怎么说,在曲棍球和羽球失利后,我为印度难过。




Debojit (Calcutta, India)
only aggressive attacking doesn't decide the winner. some other factors also matter !! Olympic = USA and China monopoly business.
Agree (17)Disagree (2)Recommend (3)




仅凭积极进攻不能判断谁胜谁负。还有一些其他因素要考虑进去!!奥运会=中美垄断行业。



White Tiger (USA) 1 hr ago
Better for u guys to boycott olympics cos u not gonna Win the Medals anyways....keep in mind World will not care... 1B ppl hahahaha No medals... Shame Shame
Agree (3)Disagree (10)Recommend (1)



你们家伙最好抵制奥运会,因为你们拿不到奖牌...记住,世界不会在意...十亿人,哈哈哈,没有奖牌...耻辱,耻辱...




Rohan Singh (New Delhi, India) replies to White Tiger
Mr Paper Tiger, if my memory serves me correctly then so called Team usa got washed out by the Chinese in Beijing'08 and fat chances are that history will repeat itself once again in London'12. And remember, You NEED India(in order to save your new born baby like fragile economy) so it is high time you started to show the I billion people (who are indirectly saving your backs) some more respect. Shame.. HUH..




纸老虎先生,如果我没记错的话,所谓的美国队在北京08奥运上被中国人横扫。历史很可能在2012年伦敦奥运上重演。记住:(为了拯救你新生婴儿似的脆弱经济),你们需要印度。所以你们早该开始对十亿印度人表现出更多尊重。耻辱...




Kirti (Bhubaneswar) replies to White Tiger 1 hr ago
Boycott what a joke ! American dominance in Olympics is long over...u just have one boxer in the qtr finals, we alrdy hav 1 and 2 more bouts to go. What a shame the largest economy in the world has been overtaken by China in 2008 and an ENCORE is in the offing !
Agree (10)Disagree (1)Recommend (0)




抵制?真是笑话!美国统治奥运的时代早就结束了...你们在四分之一决赛中只有一名拳击手,我们还有一两名选手。真是耻辱,世界最大的经济体在2008年北京奥运被中国超过,历史重演即将来临!



此次失意伦敦奥运会的美国拳击代表队终于保住了一线生机。在8月4日凌晨进行的69KG级比赛中,原本代表美国出战的22岁艾洛尔·斯潘瑟被判11-13告负,随后美国拳击队通过上诉得以战胜印度对手维卡斯,继续获得了1/4决赛的资格。经过改判,斯潘瑟被裁定以15-13赢得了比赛,这样的结果实在令人感到惊讶。其中,美国队申诉的印度选手应该获得2次警告也都被计算成了美国选手的得分,从而一举逆转晋级。